Loper : Glueless DIY Footwear
Do you want to make your own shoes? Or even start your own footwear brand?
Try loper!
Loper Project aims to achieve a healthy and sustainable shoes production system, a project that has been developed over six years.

With the Loper soles, everybody can be a shoemaker!
Click here for FREE downloads 4 type and 11 size of LOPER PATTERNS.
Now, these 4 styles of free patterns are available to download on our link.
Derby, Macalon, Lace-up and Slip-on.
More new styles are coming up in the future.
Step 2
Choose your favourite style and print it out on 100% scale (actual size).
Let's make the Derby style this time.
Step 3
Cut out the patterns with scissors or sharp knife.
Step 4
Punch holes in the patterns
Step5
Trace the patterns on the material with a pen.
The printed side of the patterns are for the left shoe, flip the pattern to make the right shoe.
It's good to write on each patterns, 'right' or 'left' to prevent the mistake.
Step6
Cut out the materials along the trace line

and punch the holes.
Step 7
let's start sewing the uppers and soles together.
Please make sure to start at the correct hole.
Put the thread through the two needles. The upper and sole will be connected with a 'saddle stitch'.
'Saddle stitching' is a way to sew alternately with two needles as shown in the picture below.

Step8
Let's start! We will start from the big hole on the inside of sole.
Step9
On the side stitch part, sew up and back down with one needle, like in the picture below.

Step10
As for the last turn, sew two threads twice.
Step 11
Put the insole and complete through the string. Whole process takes about 3 hours.
While wearing them, the shoes will be shaped by your feet.

This time we use fake leather. Just by changing the material, it will look very different as well.
It would also be fun to make new design based on basic patterns!
This is a sample made by shoe designer/craftsman from Deco and Boco.

Next to his normal collection he plans to make a second collection using "LOPER".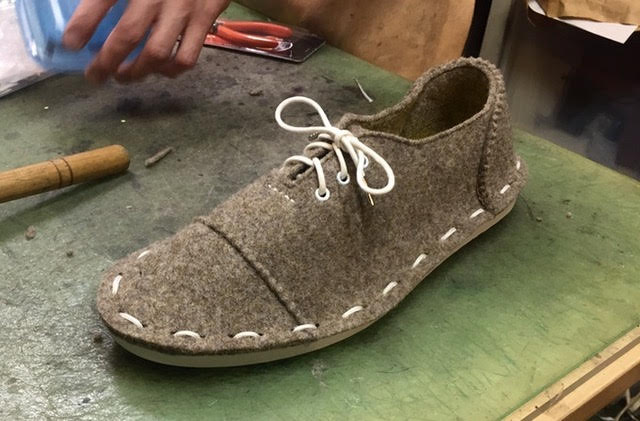 For this reason it is ideal for shoemaking workshops as well.

Better DIY
Our dream for the near future is to develop kids size LOPER's so kids can make their own shoes too.
Shoe manufacturing often is a unhealthy and harmful industry, for workers and environment.
Stop buying shoes and start making them :)
It's fun to do and such a great feeling to walk on your selfmade shoes!
Click here for FREE downloads 4 type and 11 size of LOPER PATTERNS.

Our Selling Price: US$50.00